Web & Mobile Application Development Services for Non-Profits
Keystone Web Studios is a Pennsylvania based IT consulting and development firm wholly owned and operated by Levi Beers which provides it's services solely to certified non-profit organizations based on availability. We do not provide services to for-profit businesses or groups.
Since 2016, our mission has been to provide enterprise grade IT services to organizations who've made their mission about helping others. We believe that access to today's best technologies such as CMS enabled websites, dual-platform mobile applications, push & email notifications, private social communities, donation management systems and social network integration can help these non-profits help more people. That's why our developers donate their available time and build projects for-cost, not for profit. 
WordPress Website Development For Non-Profit Organizations
WordPress is a powerful content management system (CMS) that's used on more than 19.5 million websites worldwide. It's capable of handling ecommerce, digital forms with conditional logic and dynamically driven data. In most cases, the cost to deploy a WordPress CMS powered solution is far less than developing a custom website or web application, but, it is not suitable for all intensive purposes. These days however, even websites or applications that are either data-driven or require a lot of custom functionality are still suitable for the WordPress CMS platform. WordPress allows you to easily update your site, add new content and do things like accept donations, send newsletters to your subscribers and even house a private social community. The possibilities with WordPress are increasingly endless thanks to it's large community of developers and frequent new features.
Mobile Apps for Non-Profit Orgs, Communities & Groups
Research by Flurry in 2015 had shown that 90% of the time spent on a mobile device like a smartphone or tablet is spent inside apps versus in a mobile browser like Android's Chrome or iOS' Safari. Over the last 3 years users have increased the amount of time they daily spend on their phones and have decreased the time spent on their computer. While it's important to have a website to be found, it's now just as important to have an app to keep your supporters engaged.
This year we began developing a mobile app for both Android & iOS that allows supporters to stay engaged with each other and with your organization. Similar to Facebook, the app allows users to communicate by posting statuses, photos, videos, links, polls and even create and interact in groups within your community. 
Have a blog or news are to your website? We can include it in your app and send push notifications to all supporters who have downloaded your app when you create a new post. And when supporters haven't logged in for a day, we'll email them a digest of the most important posts of that day.
We Have Better Tools For Managing Your Website & Content
Building the perfect website that informs and motivates your supporters is difficult, but managing it once it's built shouldn't be. Too often, non-profits are unable to make necessary updates and are either given limited backend system access or they're handed WordPress and expected to comfortably make changes to their site. Our custom management portals are designed to give you or your team one-click access to easily update news, events, job listings, forms, user submissions and any other content on your website. Below is a comparison of the standard WordPress administration dashboard (left) and a custom Keystone Web Studios management dashboard (right).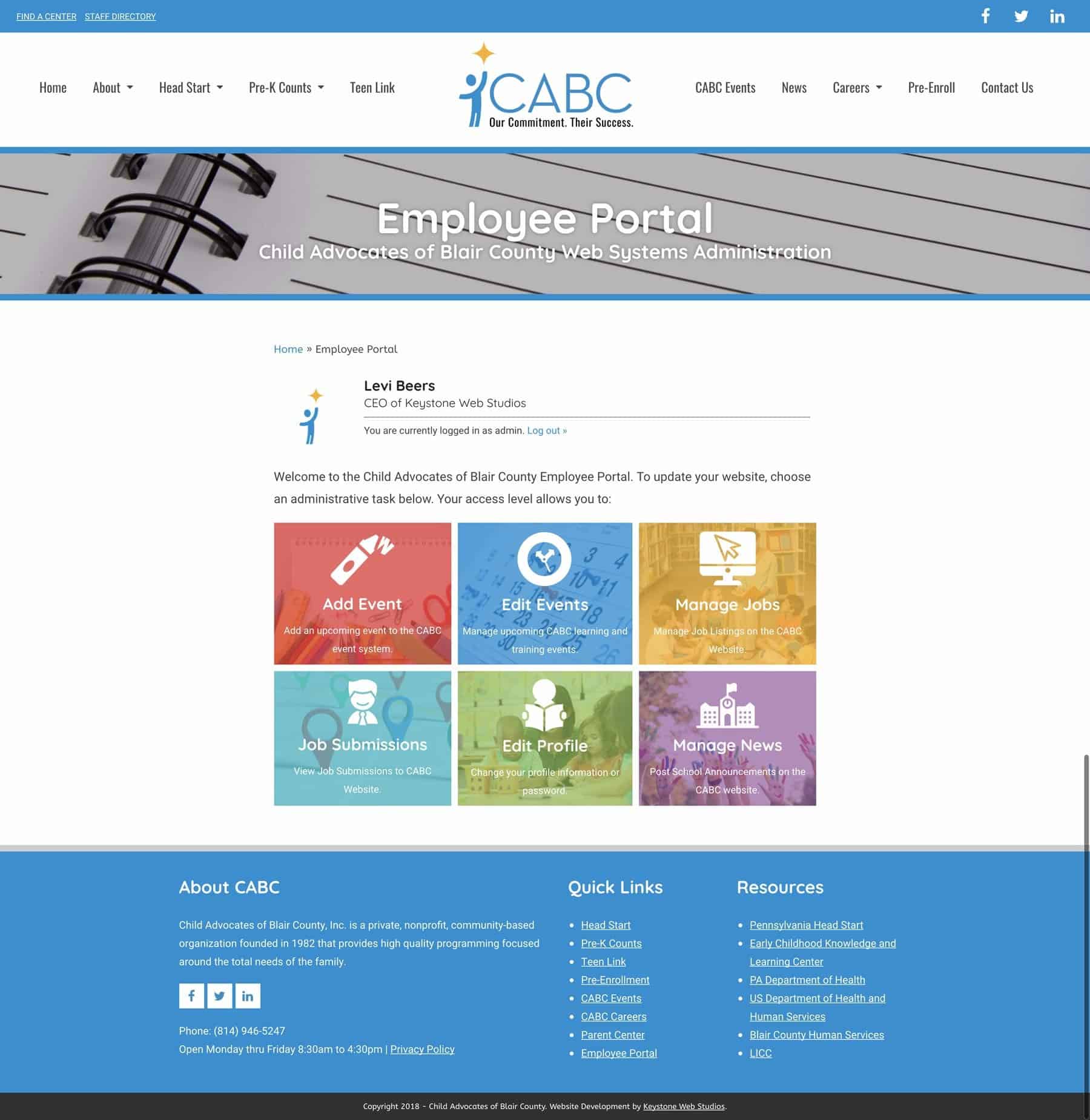 We Specialize In Successful Website Redesign Projects
You may have a website, but does it connect and drive your base? Does it bring organic search traffic from places like Google / Bing and convert your visitors to supporters? If your website is under-performing or needs markedly improved, we can redesign it using our advanced WordPress CMS platform. We'll evaluate your current website and take your considerations to create a re-development plan that contains project milestones, actual costs and projected deadlines. 
Resources for Web, WordPress & Mobile Developers
Keystone Web Studios will soon offer resources for developers such as themes, boilerplates, scripts, how-tos, plugins, Elementor blocks and more. 
NON-PROFIT INFORMATION TECHNOLOGY SERVICES
WEB & MOBILE APP DEVELOPMENT
(Certified 501(c)3 certificate required.)